Monday, August 02, 2004
Aw, flibbertigibbet.
I tried to burn some audio book cds (specifically,
On A Pale Horse
by Piers Anthony) onto my iPod, but the tracks became rearranged by iTunes. So I decided to delete them all and when I re-imported I would take the time to re-name the tracks so they would play in the proper order, or if iTunes decided to rearrange them, it would be easier to fix. Deleting a whole group of tracks isn't intuitive in iTunes, so I followed the instructions of a person on the Apple Discussions forum and accidently deleted all of my iTunes files. Which teaches me to follow advice from a user named What Would Jesus Do?
What Would Jesus Do?
Probably not have material things like an iPod when people are starving in the world, but thank Yahweh, being a martyr is not my job (not even my calling...
)
In frustration with this wonderful little gizmo and its accompanying software's quirks, I spun up a sample of lace to fingering weight mohair-merino in Tahiti colourway from
Paradise Fibers
. Then plied some of it with the Firestar. But a very little, because I think the Tahiti stuff is gorgeous, but plied with Firestar it was ick and did less than nothing for me.
Full bobbin of Firestar on left, plied stuff center, Tahiti mohair-merino on right: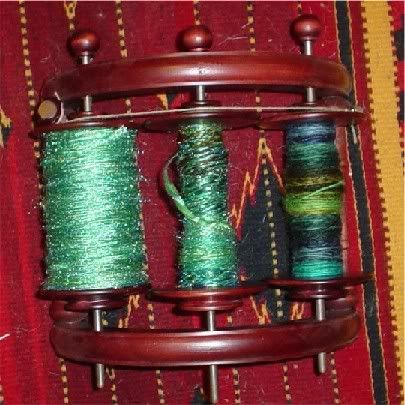 A slightly better, close-up, view of the plied stuff: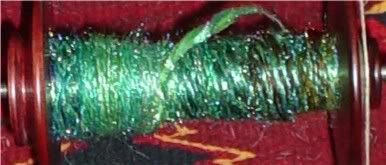 Just kind of tacky.
So it may become part of a cabled yarn, or something. I don't know that it is worthy to become part of my mother's afghan. I thought it'd be cool to have as a component, since the theme of the afghan is kind of "moods of the ocean"-y and it could be like a flash of sunlight off caribbean waves, or the flash of a fish, but I'm not feelin' it.
The bulk of my frustration cessation and relaxation came from spinning up the Juneteenth
artichoke dyeing experiment
roving. I was pleasantly surprised with the subtle shadings of the results, because, frankly, the roving looked like the dog's breakfast.
Not my kind of colourway really, but it was fun to spin up. It's very thick and thin, but probably would gauge out at DK. I'm tempted to swatch to see how the colours pool, but I have a lot of other projects which have priority. And I have no idea what will become of this yarn at all,
Jen
, before you ask ;P
And if all else fails for entertainment, I browse
the vituperation blog
and find a site like
zefrank's
and enjoy educational videos of a man who really loves his
cat
, knows how to really
shake it
, and isn't afraid to
show it.
G-d bless the internet.
|
free hit counter