Thursday, September 30, 2004
Random Access Mammaries...
We watched the debate, and played the
drinking game
(thanks
La
!) and now, we're a little slosssshed, so I apologise in advance for any "messed mixages."
I just thought I'd pop in to say that
Shaun of the Dead
is the funniest movie I have seen in a long time. If you're a fan of BBC's comedy Thursdays, you'll definitely like it, really, short of a stick in the ass, anybody will get at least more enjoyment out of it than a Star Wars prequel. Okay, see, that's not much of an endorsement, I guess I've been listening to too much snide doublespeak, but
really
, at one point I laughed so hard I
snorted
. And I am not a snorter. Is it a coincidence that
Dawn
from "The Office" plays a clone-drone crocheted-hat wearing flatmate? [Shaun/Dawn of the Dead] Weird. Anyway, if you're not convinced by me, or NPR,
Frecklegirl
and
Jen
also saw it and had nice things to say. Honestly, it's the best entertainment I've seen in a while.
Before I forget: someone recently reached my blog by googling "
silk brick
." If you're still hangin' about, you might want to check out the newest
Spin-Off
because the cover article is rockin' in that hizzy. It's also just a really great issue with the different projects, uses, and interpretations of various fibres.
I feel strange without a pic in the entry, but if I show you cardigan progress, it's just more stockinette. So in honour of "Shaun of the Dead" I show you one of the amazing treasures from Tomb 7 (from Monte Álban) that we saw in Oaxaca City.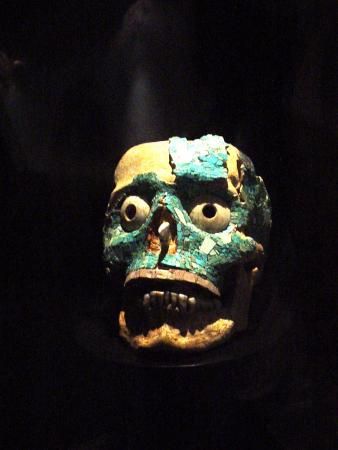 |
free hit counter