Saturday, March 26, 2005
Cleanup on Aisle # 9
"number nine...number nine...number nine..."
Damn. That's going to be stuck in my head all night.
Anyway, I haven't had much will to blog, but I've had a lot I want to put down to remember later so here goes.
[BTW, I published that Kansas--GODDAMMIT AM I THE ONLY ONE WHO GETS REALLY F-CKING PISSED OFF AT THIS CUTESY-WUTESY "Greetings Bill." STUFF!?! All I wanted was a /g and you give me that!!--anyway, Kansas/Greyhound post just tonight. When I started it, it went on much longer with links and pics to some really horrible situations that greyhounds are facing all over the world and it made me so angry and sad that I deleted all the links and pics, but then it felt incomplete so I left it. But when I checked my post cache and saw that it was still in draft form, but with distance it could stand alone without all the horrible dreck of humanity's cruelty to fellow creatures, I thought I'd publish it. If anyone knows of an update, please give me a heads-up. And if you really want to ruin your day, go here or here].
+++++++++++++++++++++++++++
As with last year's
film festival
, I only made it to a very little bit of the films I wanted to see. The Cortos Mexicanos and
Promedio Rojo
. It was maybe the most enjoyable film I've seen since
Shaun of the Dead
. Not the same genre, obviously, but still quirky, funny, sad. Unfortunately, that website I linked to is a crap slow-loading buggy flash website, but trust me, the flick is good. The director is kind of like a Chilean Kevin Smith, but this first film is way more polished than "Clerks." Of course, Lopez had a fair bit more money with grants.
It blows my mind that this dude was born the year the Violent Femmes had two hits on the charts and Karen Carpenter died of anorexia nervosa, and that (if he were American) he's only seen ONE (1) Democratic U.S. president in his lifetime. Demmed uppity whippersnapper.

I'm really looking forward to getting the DVD, as there's a lot of people I know who'd enjoy this too.
What's it about? It's archetypal: Misfit boy falls in love with hot girl (who has misfit tendencies) who is seduced by hot phoney guy...but the fun of a story is always in the telling, and the way it is told. It is intercut with fantasy superhero sequences, the intro has inking, and there is a heavy sci-fi fandom influence throughout. And a sadistic school nurse.
+++++++++++++++++++++++++++
I fell in love with Anna Zilboorg's
Socks for Sandals and Clogs
at the Escondido fiber shindig and while I resisted its pull for a short time, I went into my relatively new LYS Lakeside Knits to get it. Clarese the owner didn't have it, but she ordered it and it came within a week. So now, I am wondering which socks I want to do...These two are re-sole-able (free-sole, Zilboorg calls them):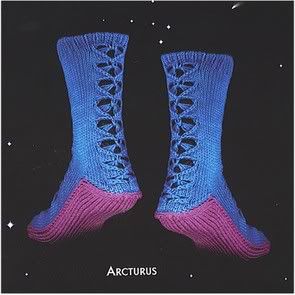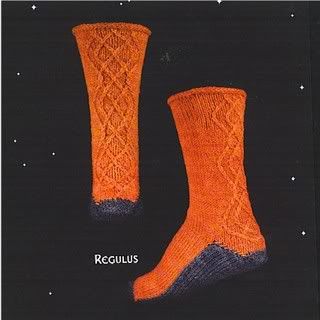 I like the shapes and patterns of Mizar and Shaula (the red and green socks, respectively) and the red & blue socks (Aldebaran) are stranded--extra cushy.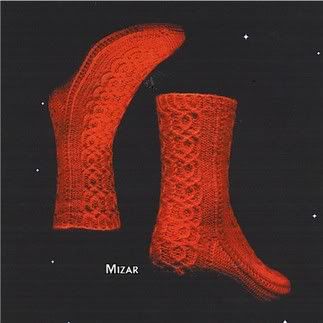 I have yarn to ply & dye hoppin' on the bobbins already.
+++++++++++++++++++++++++++
Another project I'm putting on the books for the future is a recreation of a favourite sweater in softer yarn. I bought a cabled wool sweater (the tag says Andros Handknits by Thomas Brennan, Glenties Co. Donegal MADE IN THE REPUBLIC OF IRELAND) from the
Berkeley-EastBay Humane Society
rummage sale for a few bucks way back when...BTW, that link takes you to a page which links you to iGive, a way to shop on-line and have a percentage of the money you spend on-line go to a favourite charity. I just signed up and will be trying it out, but have no guarantees as to ease of use or whatever. Anyway, the sweater just had a hole in the armpit, easily fixed, so about two years after buying it I've fixed it and am wearing it and really digging it.
I call this pose the Clueless Doofus and Self-Timing Camera with Dying Batteries...is that pose/title taken yet in the blogworld?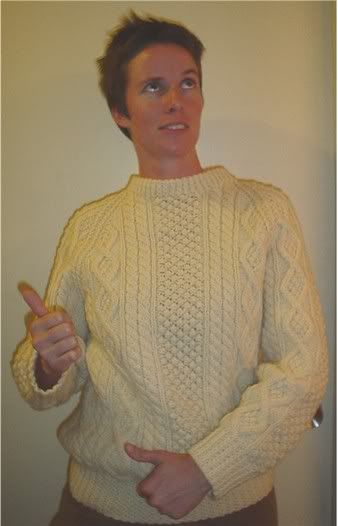 The deal is, I have ten skeins of Noro Cash Iroha I got on sale, and I think I want this
almost exact
sweater in a softer wool blend. In a darker yarn that probably won't show the cables as well. And with slightly longer sleeves. But, essentially, I will try to recreate this sweater exactly. It's still in idea phase though, barely into planning. I'm still figuring out the basics of its construction, let alone doing the cable pattern math to figure out how to adapt it for the Noro.
And I still need to do what I started this blog
for.
Ha! That link is to my first archived month, and the ten skeins I mention are the ones I still haven't used but plan to use for this cabled sweater thing. Talk about a circle of spaaz.
|
free hit counter