Thursday, May 26, 2005
Happy Happy Joy Joy
First off, it's my Friday!
Second, I think I can tempt fate and say that
Jasper
has been adopted. Because of his weird luck with being "bounced" no papers were signed (as far as I know and at this point) but his new mommy has posted pictures to the GAC yahoogroup, and that's usually a good sign.
Third, I ordered more BFL and then since I was at it, three spare Lendrum bobbins from
Paradise Fibers
and they showed up before the charge even posted on my online statement.
I love how she lets you choose the mode of shipping and only charges the cost of shipping. I really dislike UPS, despite
the founder's good works
. Old stuff really, I need to get over it, but I have never had a UPS package beat even a USPS media mail rate half.com order. Am I the only one? Why is "brown" the only way to go with so many businesses? I'd really like to know, actually.

Back to the point...I already have the second pound of BFL dyed in a blue counterpoint to the green: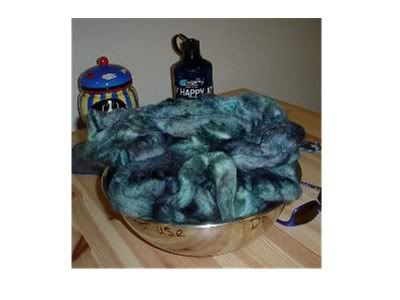 Fresh from a washer-spin ride!
Dry wooly squiggly-kins.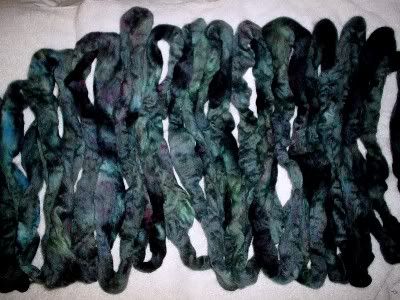 The two colourways entwined like lovers...

(retch)
I hope there is enough of a difference to make for interesting stripes in the
Butterfly
but I have actually never knit with Silk Garden or Kureyon, so I think I might cave and buy a skein or two, uh, just for research on how better to fake the Noro look in my own version. I'll put it to good use, like a
Multidirectional Scarf
, really, I will.
Which means it's time for a trip to the yarn store...is anybody up for doing a North County Slub Crawl this Saturday? Or is it too soon?
I haven't made any interesting progress to speak of on the hoodie, but I expect to have it finished by the 7th, as we're driving to the
North Rim of the Grand Canyon
for some sight seeing this next week. Which means a fair amount of car time, and while I'm usually the long haul driver, I'll take a couple shifts of knitting, I'm sure.
I had something else to say, but completely forgotten it. Hmmm...
|
free hit counter