Saturday, May 14, 2005
Six down, six to go.
Heidi
,
Nancy
, and I did the whirlwind LYS tour today and got through half the list. Nancy drove in her
super-cute machine
and nicely put up with us oohing and aahing over the navigation system and all the car's cool details. I love the double sunroof. Anyway, where was I? Oh yeah, local yarn shops.
We started with the
Nest.
It wasn't open yet but we pressed our faces to the glass and checked it out. There's a military bird obsession goin' on there...click the link to see what I mean. There's a lot of that on the walls and even outside on their utility box. I was intrigued.
Then we drove to the Hooters yarn store. Uh, Needleworks. Lots of novelty yarn, blah knitting magazines (an ancient Rebecca) but a fair amount of Cascade 220 and there was cross-stitch stuff on the opposite wall. Knitting bags and Susan Bates needles, and a set of rosewood needles. Didn't buy anything, but the staff were nice enough.
Next was the Knitting Basket in Lemon Grove. Jackpot! Teeny store and I don't think I'd actually buy yarn there, but WOW, what a great collection of knitting patterns and books. Stuff from the fifties on through to Folk Vests. I love old pattern books; I love those cheesy poses.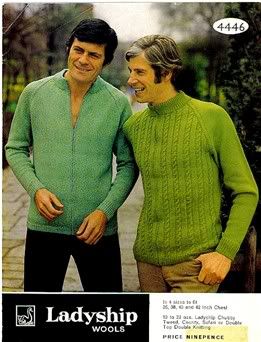 They just look so happy together in their handknit sweaters, don't they?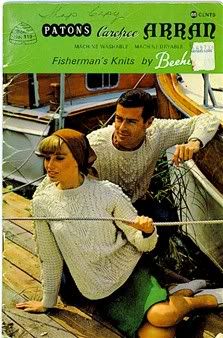 This pattern book just goes NUTS with the bobbles, but I find quite a few ideas coming from it. And some look simple and fun and relaxing to make--doesn't she look relaxed?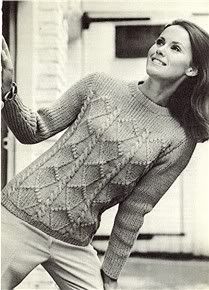 I also scored a copy of Elizabeth Zimmerman's
Knitting Workshop
for ten bucks. I think it was ten bucks, but the receipt is not very clear. Nothing really has prices on it, but the proprieter is very friendly. (I forgot to ask her name, oops) The Regia sock yarn is inside the glass case of the counter. There is kind of a moth ball smell when you first walk in, but as soon as you start plowing through all the funky time capsule mags you stop smelling it. She had a couple of Kaffe Fassett books and I was definitely won over to the man's gift for colourwork. Still probably won't ever knit one, but I was impressed. Anyway, if you like kitschy old knit books, the Knitting Basket is for you.
Then it was on to Two Sisters & Ewe. Their shop seems to have exploded with novelty yarn lately, but maybe that's just a sign of the times. They did have the 500mL bottles of
Kookaburra WoolWash
, so I snagged one of those, because I love love love love the way it smells. It reminds me of our
trip
to southern Mexico and the way our laundry smelled when we picked it up. Just a decadently happy and clean association. Anyway, Two Sisters has a lot of yarn for felting, some recycled sari yarn, your standard collection of the latest big knitting books, and some parakeets. Their Pony dpns are 50% off, but otherwise pretty much everything is at full retail or above.
We drove to Lakeside Knits & Cross Stitch and boy was it hot. I love Lakeside Knits because the owner Clarese is so mellow and friendly and seems pretty perceptive to people's moods. You want to chat, she chats, you want to enjoy the silence, there's silence. I think it's comfy, and I come in for little things after work all the time and she doesn't turn up her nose at me in my grubby, sweaty, smeared-with-questionable-substances workclothes. She still has sweaters worth of the Elsbeth Lavold Angora for forty bucks a bag, but I behaved myself and didn't buy anymore. I did buy
Knitting Ganseys
because I think I'm going through a textured knitting phase. She also has a whole other room with a great selection of tapestry yarn and such for cross stitch and carries the Denise Interchangeable Needles, Interlacements, and Cherry Tree Hill yarns.
Then we went for lunch at the Branded Oak, where the waiter flirted shamelessly with Heidi.
Sleepy from the heat and food we forged onward to Alpine and to Lori's Frames, Frills & Fibers. Cute shop. Colinette and a few other yarns we hadn't seen in other shops and a pretty good selection of Rowan patternbooks, Rebeccas, Adrienne Vittadini, On-Lines, Vogues and Noro books. They didn't have the
Rowan
I was looking for (or the Rebecca Nancy was looking for
[#29]
) but I bought a copy of
Noro Knits
for the Butterfly pattern (and maybe York, and Gloria, and Eloise and Myrtle).
By then, we were beat and headed back to our original rendezvous point. I came home in plenty of time to take a cooling bath and bang Nick like a drum before he had to go to work.
All in all, a lovely day, a lovely day.
I knew this was going to be a great weekend, because when I came home from working a twelve hour day on Friday, I found a package with this on the table: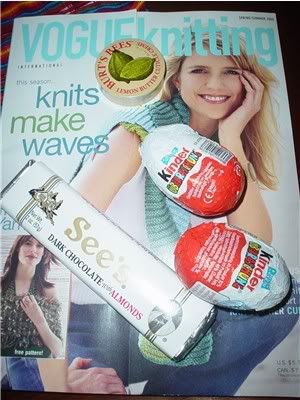 Yum-yums from
LoriO
! A fun Vogue, wonderfully smelly good Burt's Bees cuticle cream and...CHOCOLATE. Just what the doctor ordered. And since it's been warm, it was at just the right temp for devouring right then and there, although we saved a Kinder Egg for later. I've never had a Kinder Egg before and I just think that they are awesome--chocolate and a fun little toy, to rip off Yakov Smirnoff: "Vut a country!" Just a fantastic idea, what will those wacky Germans do next?
Kinder Eggs kick the Cracker Jack kid's @SS!
|
free hit counter