Monday, May 02, 2005
(sort of) The Original (un)Lucky Post and the first half of a two pattern post. So I guess I mean 1 pattern.
Two Mondays ago I came home and checked my mailbox and found my race number from the Revlon 5k, then I checked my e-mail and found that both
Heidi
and
Nancy
had been eagle-eyed and noticed the new red square in my sidebar and had even clicked it and gone even further to make generous pledges to the cause.

When you sign up for the Revlon thing they also make it really easy for you to make a fundraising page and I meant to mention it in a post but they noticed it before I got around to it and when I wrote a post to gloat about how lucky I am to have such observant blog-buddies and other random bits blogger ate it and life got busy happening and I just didn't feel like spending much time at the computer when I was so enthralled in wallowing in my good spirits.
And getting back in shape so I won't embarrass myself by collapsing during/after the 5K.
Maybe after I get a celebratory pint in, but not before.
I'm sorry, what was my point? Where am I going with this? Oh, um, here...
Gloat, gloat, gloat, gloatiddy-gloatiddy-gloatally-diddly-gluteus-gloateus to the maximus...I love it when you write a word so much it suddenly just looks wrong and means nothing anymore...
No really, here's where I'm going, the spontaneous combination of an FO and good mail happiness: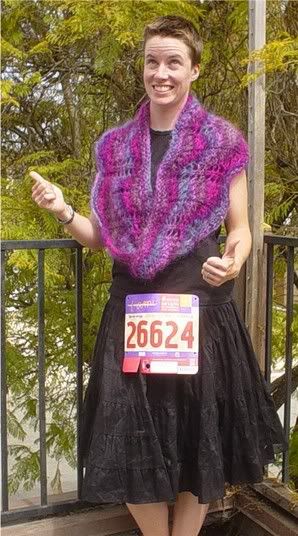 I'm pretty sure I can't run the 5K in a skirt (though actually, why not? Though not that one, because it would cut my stride) nor have the number that low, but I couldn't resist putting it on because this is the first event I'll ever run in.
(I was going to walk so I could stitch and bitch with the
JenLa
crew, but when it came to choosing at sign-up I had an impetuous "what the hay" kind of moment.)
And I kind of had an idea. Remember way back in January when I made a sweater for a
monkey
toy poodle? Well, I always meant to write up the pattern for it and post it, because I even had someone ask me for the pattern and I meant to write you back really, really I did, but...I am a sucky blogger. But I've looked everywhere for the scratch sheet I was working from and it was really just a gauge-based template done in 2x2 ribbing transitioning to 4x4 ribbing for smooth increasing to body width and to stretch for the chest. Here's a reminder pic: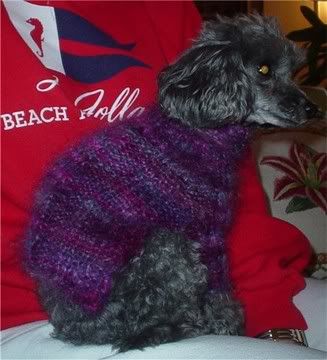 Anyway, I made this sweater for my aunt's dog, and since SweetPea is a teeny weenie I had a ton of leftover yardage for a matching moëbius lace scarf for the aunt.
I thought I would post what I have and see if people like it. If you have questions, feel free to comment or e-mail me from the sidebar, because making this stuff myself is one thing (and quick and pretty easy) and I really enjoy the idea of writing a pattern for others to use so something simple is probably a good exercise with which for me to start.
Damn. It flows so much better if you end that sentence with a preposition, why is that so wrong?
And if people like the pattern and feel like donating to the Revlon 5K, then even better buttah..."churned-style bebbay."
I have NO IDEA where the hell that came from, I am having full-on phrasal Tourettes today. Is "phrasal" a word? Oh, hooray, it is!
La of
JenLa
also has a donation link in her sidebar, and you can donate at the main site too as it all ends up in the same place helping fund breast cancer research. Or if the Revlon thing isn't ringing your bell go help
Yarn Envy
help
Locks of Love
or wander through
Hatamaran's
great humanitarian smorgasboard sidebar and see if you can spare a couple bucks somewhere in there. Or just enjoy knitting the pattern and catch a cause later. Or not--I mean, maybe you will
hate
the pattern, or find it entirely useless or boring or...
Anyway, I'll start with the scarf since it is simpler. It's a super-easy to memorise feather and fan variation done in the round on a circular needle. Here's a detail of the repeat: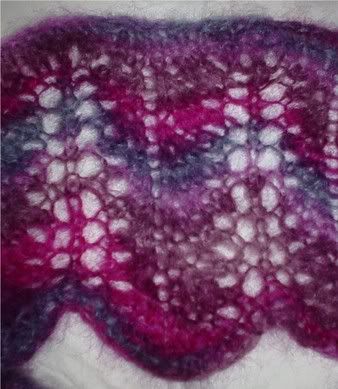 It's based on 24 stitches, so you can make a bigger or smaller loop by adding or subtracting 24. I used the leftover part of the skein of
Fantasia by Plymouth Yarns
from the 'Pea Wee Sweater project. SweetPea is pretty small (6lbs? light enough I feel confident I could pitch her past homeplate at a good speed, heavy enough to go the distance) so her sweater didn't take too much yardage, but both projects were made from just one skein. I knit with US size 13 circs, using my trusty Denise Interchangeables but a 16" or 26" would do as well. The stitches might be a little crammed on a regular 16", just a heads up.
Anyway, here we go:
With US sz 13 circs of appropriate length cast on 96 stitches. I used the knit cast on.
Okay, here is the trickiest part (yeah, that's how easy this is ;)): You know how the knitting instructions always caution you to check that your stitches are not twisted on the needle before joining? Well do that, make sure they are normal, then twist them one revolution on the needle. The stitches will look like they usually do, but there will be a revolution 'round the needle somewhere along the way. Don't worry about it, you won't notice it while knitting. Or at least, I didn't.
Here's the way the needles look with stitches cast on and untwisted: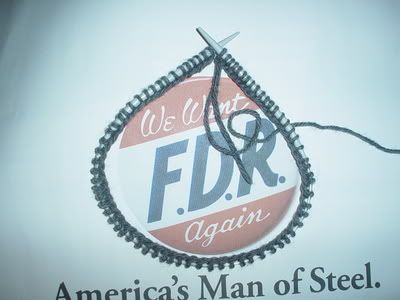 Here's one revolution of twist: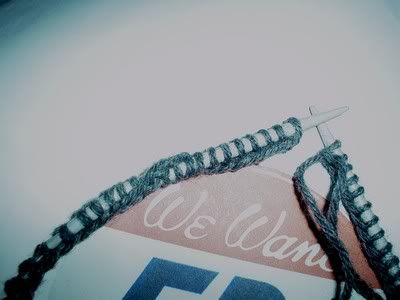 Okay?
Heres the pattern then:
Cast on 96 (or the multiple of 24 you dig)
Twist, place a marker, and join it.
Row 1: Knit
Row 2: Purl
Row 3: Knit
Row 4: Purl (big shocker there, eh?)
Row 5: (Okay, here's where you put your beer down and pay attention for a second as you set the rythm)
*k2tog X 2, (yo, k) X 4, k2tog X 4, (yo, k) X 4, k2tog X 2*
that's the repeat, so repeat that bad boy btwn the *s 'til you hit the marker.
Row:6 Knit
Repeat Rows 5 & 6 until you're happy with the height of the scarf (or until you have only 4 rows of garter stitching worth left)
Purl a row, knit a row, purl a row, knit a row, bind off loosely to end it all.
Since this is knit on big needles, it probably wouldn't look so hot done with a worsted weight 4ply or similar sweater gear kind of wool. Go ahead, treat (or torture) yourself with a fun fuzzy yarn of the mohairy persuasion.
Ta-da! Here's a sort of close-up of the finished scarf: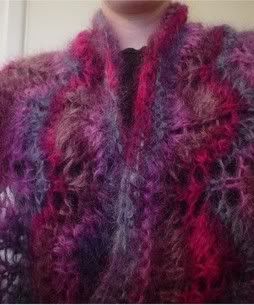 Okay, this next one's a bit...vaguer. Because I lost my notes and I'm not willing to testknit for different sizes (and really, what's the point of handknitting something if you are going to have to go by someone else's notions of how something is sized or proportioned?) this is more a guide and a way to glorify the gauge swatch.
Do a fair-sized one, and do it in the round because some people have different gauges when they knit flat and when they knit in the round.
Weirdos.
Once you've found out how many stitches per inch/centimeter your chosen yarn gets with your chosen needles, go find a dog/cat/ferret/small animal in need of sweater of your choice and measure him/her.
Here's
a guide I made to help you get all the measurements you need in one go so you don't have to keep chasing the little f#cker down every time you're wondering if you need to increase or decrease or how much longer you should knit the sweater.
Once you've printed that (right-click, select "save as", save to where you can find it again, open a Word document or printable page of your choice, insert it, embiggen it if'n you want to, and print it) and filled it out with the measurements (and it's best to do each measurement three times and take the averages of the three for your final numbers plus add appropriate ease, because even though this guide is for a ribbing for flexibility, you still want to add some ease for more flexibility and you don't really have to do ribbing if you don't want to. You could choose any flexible stitch pattern you wanted. What's appropriate ease? Well that depends too, but call it 15%, so if the animal has a measurement of 20 inches, and you have a gauge of 4 sts/inch you want to have 92 sts on to have 23 inches around. And this is handknitting, relax, don't stress, it doesn't have to be exact. Does it seem right? It probably is.)
Okay, I'm going to fill out a mini chart with Tahoe's stats to do this with...um, I'm going to do this and get back here soon. M'kay?
In the meantime, enjoy the expression on Jasper's face.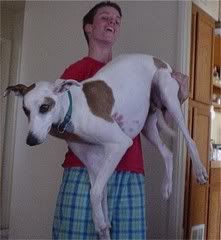 I love picking him up and pretending to eat his spine like a corncob while growling. He's a very good boy to put up with my version of "socialisation."
|
free hit counter