Wednesday, July 13, 2005
Idiot.
I was really annoyed this morning when I put the kettle on and ten minutes later it still wasn't boiling. In my precaffeinated state, it may have taken a further five minutes before I realised I'd turned on the burner underneath the mondo-dyepot. Dammit.
No harm done to the Finn-Dorset fleece inside. Which brings me to the actual Phirst Phase of my idiocy, since I thought'd be a good idea to separate hunks of the fleece for dyeing in all the colours that show up in a flame (flamin' finn-dorset, 'cuz I got burned, d'ya get it? Yeah, not very subtle, but I had a beautiful theory of how it would look in the end) but once you start thinking about the variation of colours within a flame (and what kind of flame? Gas? hot? wood? cool? the end of the night coals of a beach bonfire? the bunsen burner flame of a chemistry classroom? I'll bet you'd get a lot of different flames from different people if you took a flaming poll) it all starts to get a little fuzzy and you end up with what looks like Halloween Fair vomit on your table: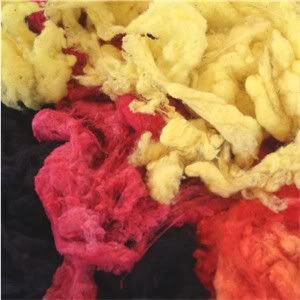 There's purple, blue, and green to come to join the mess of black, orange, yellow and a red that's more of a rose. I hope once I start blending and spinning I'll like it more.
I've cast on for
Grumperina's
Tivoli
. I'm only on row 6 or so, so if you picture a loop of st st mercerised blue cotton on some shiny Addi needles you'll probably come up with a better picture than what I gots to show ya. I couldn't find any stitch markers last night when I was doing it so just used little bits of household detritus, and it doesn't look terribly clever at the moment.
I cast on for Tivoli so I'd have something more fun and a little less fiddly than the Victoria Tank. I pulled that sucker out of my bag yesterday and had at least ten stitches off the needles. And even though it's only a simple nine stitch repeat going around and around, a variation on the beloved feather and fan, I still manage to cock it up every once in a while. But I knit on it for perhaps two hours on Sunday and only f'ed up once --right before I stuffed it into my bag, what a coincidence. I've only gone back once to fix a f-ck up. We'll see.
Exciting in-progress pic! Perhaps two inches!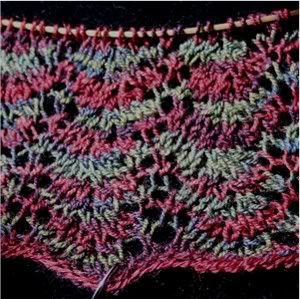 Oh, and CJ asked about the yarn, and I'm afraid I'm a bit vague on the info. Not on purpose, of course, and if anyone is absolutely dying to get some, I will find out. Anyway, it's from a one pound hank my MIL bought for me for my birthday last year from a friend of hers who has a yarn store on her property in Springville, CA. I'm not even sure of the yardage, I just know it's a buttload, but the tag just said: "1lb" And I keep coming across similarly dyed bits of mohair, so there must have been a coördinated skein of fluffy mohair snuggled up to it as some point. She did have some great hand-dyed stuff--the
bouclé
I made the
meringue yoke cardigan
out of was from the same trip and also a gift.
I suck at "running errands"
I went on my own little mini-knitshop tour yesterday in search of a US4 Addi Turbo 24" circular. (Yes, I could have called ahead, but that rips the thrill right out of the hunt.)
My first stop was the new site of Knitting in La Jolla at 909 Prospect. She's tucked back into this little mini-mall location, just between a Grille and a Hard Rock Grill. Definitely my favourite shop of the four I visited, but she had every Addi 24" (fromm 00 on) except the size 4, and none in her backup stock. Lots of novelty yarns, but lots of beautiful hand-dyed stuff too, though none local that I saw, and lots of books and fun little notions.
I walked over to Helga's Yarn Boutique to see if she sold Addis. Yikes. It's like a yarn shop from the 80s, mostly acrylic, mostly novelty, only Clover bamboos for circular needle choices. And pretty much night and day from the charm of Knitting in La Jolla's owner.
For sh!ts and giggles I drove up Torrey Pines Rd from La Jolla, to where it becomes Camino Del Mar and stopped by Dexter's long enough to find out they were out of the only food Tahoe will put inside his perfect little mouth (aside from cat poop) but they'd have more by 2 o'clock today. This was the real reason for my meandering mission, but since we aren't out of his food yet, and it was a gorgeous day, I didn't care.
Camino Del Mar happens to turn into Historic State Route 101, which just happens to have two knit shops on it in Encinitas.
The first one I came to was Black Sheep, which has a huge collection of Manos. HUGE. Some spinning fiber, beads, novelty yarns, sock yarns, staple yarns, the largest stock of patterns I've seen anywhere, and dyes and resists for painting fabric and acid & procion dyes for protein fibers. Definitely the most diverse stock of the day.
They had a "Part Time Help Wanted" sign up and because I was high from the fumes of this wide-open with possibilities window-down day I asked for an app and even started filling it out before I came to my senses.
Nobody drives from La Mesa to Encinitas to work two days a week for $7-8/hour unless they're still living with their parents.
And while I may answer in the affirmative when Nick calls out "Who's yore daddy!?" he is not, in fact, my father.
But I did find the circs, refrained from buying anything else I didn't need, and set off down the road for Common Threads.
Common Threads has a huge stock as well, but it's mostly organised by colour (there's an altar to Manos in a closet-type room off to the side) and since I no longer had a specific shopping goal, I felt a little adrift in a sea of gradiated colour, with Lorna's Laces nestling Berocco, a chaos of acrylic and wool. There appeared to be a section of Lamb's Pride in various colours for felting, but it seemed like it was in the middle of being organised so I don't know if that was a static installation or not. There were a ton of Addis, but they didn't have the size I had needed--I looked just for price comparison. Their book section wasn't bad, certainly more than Helga's, maybe more actual books than Black Sheep, but except for the Rowans there wasn't much you wouldn't find in the Giant Chain Book Store Hobby Section. Anyway, they had a lot of stuff, but you might have a hard time if you went with specific yarn in mind.
Books I've Read
A Letter of Mary
by Laurie R. King--This is the third in her Mary Russell series. I think they're fun, even though I've never really read much of Doyle's Sherlock Holmes stories (I think I've only read "A Speckled Band" and "Hound of the Baskervilles") and I like the occasional period reference tossed in ("I met an odd man named Tolkien with a passion for Anglo-Saxon verse...") of real and fictional characters (Lord Peter Wimsy appears briefly in this one too) because it breaks it up a bit as they aren't exactly your action-packed gritty Vachss type books.
The Full Cupboard of Life
by Alexander McCall Smith--More fun summer fluff. Precious & Mr. JLB finally get married, one of the apprentices gets a thorn in his bottom, and Mma Makutsi won't have to wash at a shared standpipe anymore! Woo-hoo!
|
free hit counter