Sunday, July 16, 2006
Knitting, babies & b!tches
Knitting
Last Monday night I finished my first pair of adult size socks.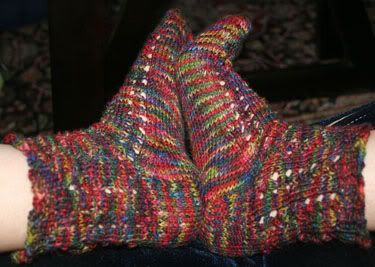 I didn't kitchener the toe until Tuesday morning however, because I didn't have
Jessica
to hold my hand and talk me through it step by step for this one (unlike the first one, finished at the baseball game and she didn't actually hold my hand because that would have made kitchenering the toe even more tricky, but she did watch me and tell me exactly what to do so I just shut my brain off and followed her voice to HappyTidilyGraftedToe Town), but the
knitty tutorial
did all right. Not as pretty, but done.
Doing the second heel I realised that I have a "literacy issue." The heel flap instructions did not say "purl 1, slip 1" like I had remembered. Just "slip 1, purl across" like Stella had said in the comments. It does make a bit of visual difference, and feels a little different on, but not so much that I'm making a third sock.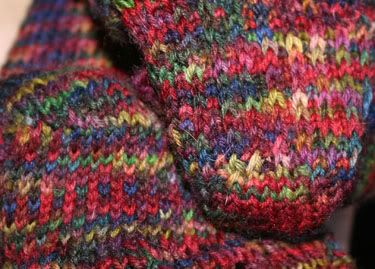 Both socks were made with one skein of my
dye-o-rama pal's
yarn with a fair bit to spare, so I could make a matching pair if I was so inclined. I love the colors, but the polyamide content in this elann makes 'em a little crunchy feeling, so I know they'll wear like iron. (not a bad thing).
Pattern modifications: None, although I didn't knit as long a foot as specified as I have shorter feet. The "lovey lace" pattern was very easy, but kind of baggy. I guess I'm not as cankly as I think.
Knitting & Babies
Given the subscription numbers, it's highly unlikely that anyone reading here is unaware of
Yarn Harlot's
baby hat post(s). But just in case: (scroll down each entry for the pertinent bits) Original post
here
, baby hat Q & A
here
, Jeanne's mailing address posted
here
.
A big amen to the original post, and not just the maelstrom of issues surrounding breastfeeding but also the not-putting-acrylic-on-babies thing--if you've ever done a burn test on acrylic you'll know why the idea of it freaks me out.
Acrylic burns fast and hot, spreads and melts fast. Ingeo does the same.
Pure wool is self-extinguishing and flakes instead of melting. Wool also becomes warmer when wet, instead of stealing heat from the body when wet as cotton does. The market is now so large that the old "rough wool" is no excuse--there are wools out there softer than many of these unnatural yarns marketed for baby knitting. The only excuse out there against wool now might be the "easy care" issue, but I think it's more a different mindset. Washing our wool stuff doesn't seem any more of a PITA then doing laundry or dishes. Fill a sink/washer, let the item(s) soak for twenty minutes in the soapy water, drain, refill, soak, drain, lay it out to dry. Little increments of time. As I'm given to understand that everything is reduced to little icrements of time once the baby comes, I don't see what the big deal is. Although I can understand the One.More.Damn.Thing. complaint/viewpoint.
Anyway, superwash wool is out there and now, easily available. One caveat though is that the polymer it is coated with to keep it from felting does burn, but the self extinguishing properties of the wool still exist within it and it behaves in a burn test almost exactly like pure wool, but the flame spreads over the surface a little farther and extinguishes a fraction of a second later. Enough of a difference to tell a difference, but a small difference.
Cotton is not self extinguishing, but does not spread in such a scary fast flame as acrylic. But it will burn completely, with little orange glowing worms of flame spreading throughout the fiber unto powdery ash.
People generally don't smoke around kids any more, but still...just in case, and especially during barbecue season, please don't encase kids in petroleum products.
Anyway, my point, before I got distracted by setting samples on fire at the bathroom sink?
When I wind off sock yarn I often end up with mini-skeins. Baby hats, even knit in sock yarn, knit up incredibly fast, like one-a-day fast. And it's superwash merino, so they can wash it in the washer but it'll burn (almost exactly) like wool.
Never knit something without an eye toward its fiery destruction, I always say.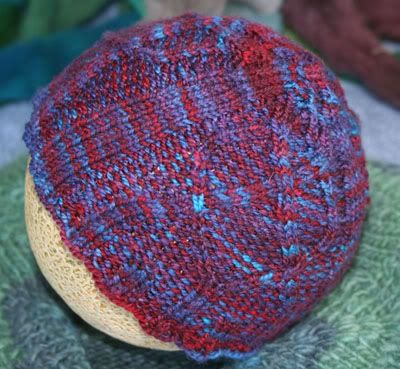 I haven't much of a clue about baby proportions (I am always blown away by how
wee
we all start out) but I think this cantaloupe is about the right size of a big-ish newborn noggin. Roughly 55 yards of the fingering weight, a cable pattern made up on the fly. I did do a rough sketch of it on paper, but the cable as knit had fewer crossings, not like you can really tell in the variegated yarn anyway.
Anyway, this is definitely a great way to use up project scraps as they really don't take much yardage, and being small and not laying in the lap, they're nice for summer knitting. They're also great for trying out stitch patterns, little wearable swatches.
B!tches
I thought I was getting better about missing Snowball, but in the last few weeks the grief has come back. Not the same crippling wave of it, but the futile stabbing pain of absence. The fresh reminder that I'll never get to rub my face in his fur and scratch him while he leans against my leg. That no one follows me around while I do house work and I'll never laugh at him doing his happy spins around the yard again. I thought I saw him in the kitchen about three weeks ago, coming in from the deck but it was just a combination of Tahoe, peripheral vision, and wishful forgetting.
And then I got an e-mail that this beautiful girl had to be put down because of osteosarcoma too.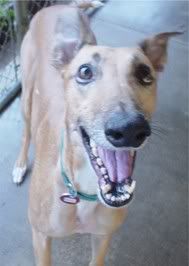 I really thought I'd had a post on this blog about her, but I cannot seem to find it. She was at the center when we were fostering Jasper and I couldn't bring her home, but she was one of the ones that really made my day. We would hang out in the car for lunch, sometimes go to McDonald's (my lunch hour was before the breakfast cutoff time and I love the hash browns, and she liked the sausage mcmuffins, and I went back again just a month ago after not having gone since she was adopted and the lady at the drive-thru asked, "Where's Rosie?"), sometimes go to my house. I loved her. Her goofy smile and bounce made my day. For other people she would just stand there, but the way she bounced around for me and our happiness together made people say, "hey, that dog is cool," and put out the extra effort to draw her out, so she started being more affectionate with EVERYBODY--it's a not uncommon domino effect, and it's not something people would like to admit, but there is competition to be the dogs' FAVORITE person, the person they all go apesh!t for--and got adopted by a nice couple from Beverly Hills.
They had e-mailed me about six months ago to tell me about the cancer, but the e-mail saying she was gone, plus this inexplicable new wave of mourning for the Wallyball made me need another greyhound around.
I love my dogs. But there is something about taking a dog and bringing them home and watching them just open up, learn new things, become brave and confident, be silly, spread out, cause trouble...it's awesome, and I love it. It's probably just ego stroking, but I love how just a little extra effort with a dog can effect huge changes in their behavior, turn a shy dog into a happy bouncy goofy love-glutton.
Anyway, Monday we brought home Teak.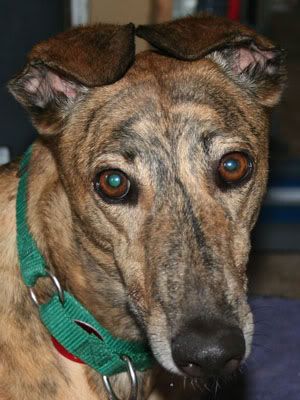 Long story short, she's an awesome little girl. She'd been a shivery nervous wreck at the kennel, but had a great time at our house, especially since there was a ten minute gap in adult human supervision and she kicked Belu's ass.
I'm sure Belu deserved it.
I came home and Belu had a scallion sized hematoma on her neck and a tooth/claw scrape on her side; a little table on the deck had been tipped over and a machete was buried point first into the deck a half inch or so. It must have been quite a little scuffle.
Belu likes to nip Tahoe when he gets excited when we come home--I think she tried this with Teak, and Teak showed her that this was unacceptable. She never broke the skin, just bruised her, which if you know how thin greyhound/whippet/italian greyhound skin is, you will be able to respect how amazingly well-tempered her bites were. Just fabulous. We weren't sure that Belu had learned her lesson, and
Heidi
said it was okay to bring her to the movie night that night; by the end of the evening the blood in the hematoma had been mostly reabsorbed and was almost undiscernible.
She decided on a policy of pretending Teak didn't exist, looking right past her, leaving her alone. This is amazing if you know our powermad little b!tch when she's at home.
The first day or so Teak was a little clingy. At one point I was walking in the house and stopped and she walked headfirst into my backside and I nearly cried with gratitude. Snowball used to do that all the time, and while I know we'll never have another dog like him, it was nice, this...I don't know what you'd call it. Anyway, I think I'm starting to sound pathetic and most people aren't reading this anyway as there are no pictures, so I'd better wrap it up.
She was adopted yesterday, and while I'm hoping it will be her perfect happy forever home, she'll always be welcome back here. So it was a short foster experience, but good balm for wounds all around. My SIL and nephews will be visiting this week, but next week we are bringing home another.
|
free hit counter