Sunday, July 23, 2006
The New Hotness
Say hello to our newest foster dog, Hoth: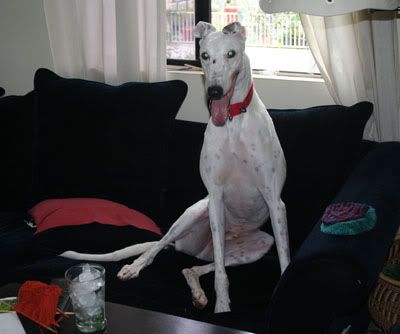 He's just turned three years old, has bad teeth, a bit shy, a little freaked by men, takes thyroid medication, has to eat a special fish & potato diet because of allergies and is the tallest dog we've ever fostered. He may be here awhile (and that's all right). While he's no Snowball, (;P) he's a unique mookie bear and very good about not peeing in the house and we lub him vewwy vewwy much.
We're going to teach him to be confident and chill.
Speaking of chill, the irony isn't lost on me that he's named for an ice planet in a galaxy far, far away a long time ago. (Dogs that come in in groups are named for themes. Someone was in a Star Wars mood when he first came in. We also had a Nabu and an Endor that I can remember.) It's very hot here. It's pretty hot everywhere though, and setting records for it, so, enough said. Weather chat is for neighbors and elevators.
I've been spinning, knitting, and goofing off.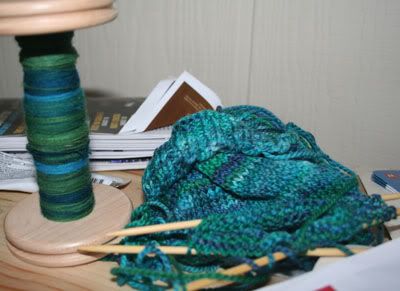 Spinning and knitting, color synchronicity.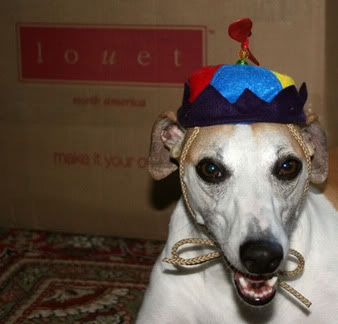 I've been doing some dyeing too, pics later.
I've been getting really excited about the Louet Victoria--originally labeled the S95, it was renamed after this cutie patootie: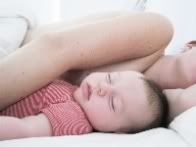 I especially like this bit:
Just as my grand child the prototype weighted 3,5 kg and measured about 50 cm long. Folded, the S95 is still longer than Victoria, my grand child, when she folds herself.
written by Jan Louet.
I like my Lendrum, but I don't love it.
While its endless range of adjustments and accessories are part of a selling point, they're also a pain in the @ss. They don't actually fit in the gigantic bag one buys to carry it in and it's heavier than many other wheels.
The Victoria is priced at a point below the Lendrum (I don't know that there's been an official suggested retail price, but they designed it be at the price level of the S75 or below and $550-$595 seems to be the magic number most bandied about as a retail price) and it's lighter and more compact than anything else on the market.
Anyway, I'll bet a lot of Lendrums are on the market used after this becomes available and widely tested. Mine might be.
Of course, Lendrum owners are a fierce gang, with a yahoo group and all...so who knows. It won't be available for shipping until November, but I've got dibs on an oak one. I'll be taking orders for the Victoria at my site, bag & shipping included for $525.
Click here for more shopariffic info.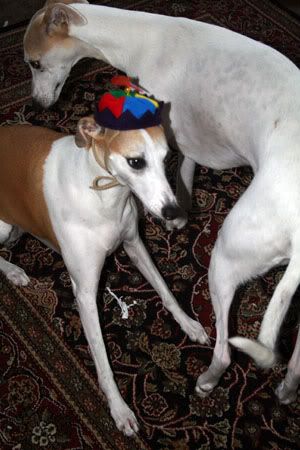 Belu's posture telling Tahoe that she'll kick his butt six ways 'til Sunday if he says
anything
about the hat.
anything
, buddy, just try some smart lip.
Speaking of smart lip and stupid hats, I never should have said, "one a day fast" about the babyhats. We had visiting family and I've only finished one baby hat since my last post, and you can sort of see the second finished hat under the berry cabled hat on the arm of the sofa next to Hoth. The hat in progress next to the bobbin of handpainted Dorset is some odd skein
Bisbee Sock Yarn
.
I am maybe half done with a pumpkin hat made of a spare ball of Jaegar Cadiz (50/50 silk/viscose blend) which I'll edge with single crochet green Noro Cash Iroha around the brim edge and use the green Noro to knit a twisting i-cord vine and leaves. Originally I cast on 42 stitches, but thought that would be too small, NICU sized, so I ripped it and now it's 70 stitches on size 4s and will be a pumpkin hat to fit a pumpkin head--a mother's silly hat revenge for a painful perineum. ;)
Or just a hat for a healthy, happy breastfed baby. Who knows.
|
free hit counter